The Backbone of Your Driving Experience
Your vehicle's steering and suspension systems act as the backbone of your driving experience, intricately working in tandem to counteract road imperfections and support vehicle dynamics. While the steering system grants you the precision to maneuver with ease, the suspension buffers against road bumps, ensuring stability. A lapse in their maintenance can compromise your car's performance, leading to premature wear of components, decreased fuel efficiency, and diminished responsiveness in critical situations. As such, prioritizing their upkeep is paramount not just for comfort, but for the safety of everyone on the road.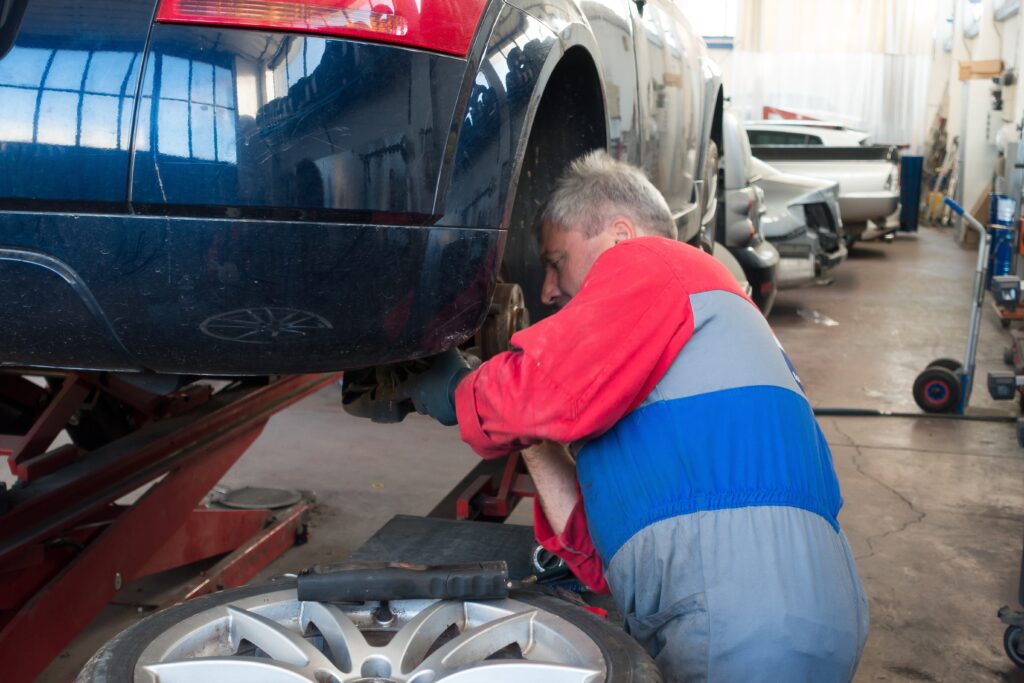 The Basics of Steering and Suspension Systems
Definition:
Both the steering and suspension systems are fundamental to a vehicle's operation. While the steering system allows the driver to guide the vehicle, the suspension system works to maximize the friction between the tires and the road surface, ensuring stability, good handling, and optimal comfort for the passengers.
Components:
Tie Rods: Connect the steering system to the wheels, playing a pivotal role in ensuring smooth turns.
Steering Gearbox: A crucial component that translates the rotational motion of the steering wheel into the left or right movement of the wheels.
Power Steering Pump: Assists the driver in turning the wheels by using hydraulic pressure, especially useful at lower speeds.
Springs: Store energy when the wheel moves up and down, ensuring the car returns to its original position after hitting a bump.
Shock Absorbers: Control the movement of the springs and suspension, absorbing and dissipating energy.
Struts: A structural part of the suspension system that combines coil springs and shock absorbers into one unit.
Control Arms: Link the vehicle's suspension to its frame, allowing for the movement of the wheels.
How They Work Together:
The steering and suspension systems are intricately connected. As a driver maneuvers the steering wheel, the steering system directs the wheels to turn. Simultaneously, the suspension system ensures that the wheels maintain contact with the road surface, absorbing shocks from road imperfections and adjusting to different terrains. Together, they guarantee a vehicle's stability, responsive handling, and passenger comfort.
Signs of Steering and Suspension Issues
Here are some common indicators to look out for that your steering and suspension may require attention:
Difficulty in Turning the Wheel: If you find it hard to turn the steering wheel or it feels stiff, it might be a sign of problems with your power steering system or alignment issues.
Unusual Tire Wear Patterns: If you notice uneven or rapid tire wear, it can be a symptom of misaligned wheels or worn-out suspension components.
Vehicle Pulling to One Side: A car that consistently drifts or pulls to one side might be experiencing issues with alignment or uneven tire pressure.
Noises When Going Over Bumps: A clunking or knocking sound when driving over bumps can indicate worn or damaged shock absorbers, struts, or other suspension components.
Loose or Wobbly Steering: If your steering feels loose or unresponsive, especially at higher speeds, it could be a sign of worn steering components or misalignment.
Continuous Bouncing After Hitting a Bump: When your car continues to bounce excessively after going over a speed bump or pothole, it's likely due to worn shocks or struts.
---
Steering and Suspension Repair at P.B. Foreign and Domestic Car Repair
What Our Steering and Suspension Repair Services Include
We offer a comprehensive range of steering and suspension services to ensure your vehicle drives smoothly and safely. Our services include:
Wheel Alignment: Essential for even tire wear and optimal handling.
Shock and Strut Replacement: For a smooth and stable ride.
Suspension System Inspection: To identify any worn or damaged components.
Power Steering Fluid Change: To maintain easy steering and prevent system damage.
Ball Joint and Tie Rod End Examination: Ensuring the integrity of your vehicle's pivotal connections.
Choose P.B. Foreign and Domestic Car Repair for Your Steering and Suspension Repairs
A faulty steering or suspension system can significantly affect your vehicle's performance and your safety on the road. Rely on the knowledge and experience of P.B. Foreign and Domestic Car Repair to accurately diagnose and address any concerns. For steering and suspension evaluations, replacements, or any related services, schedule an appointment or contact us online or call us directly at 1-858-270-1142.